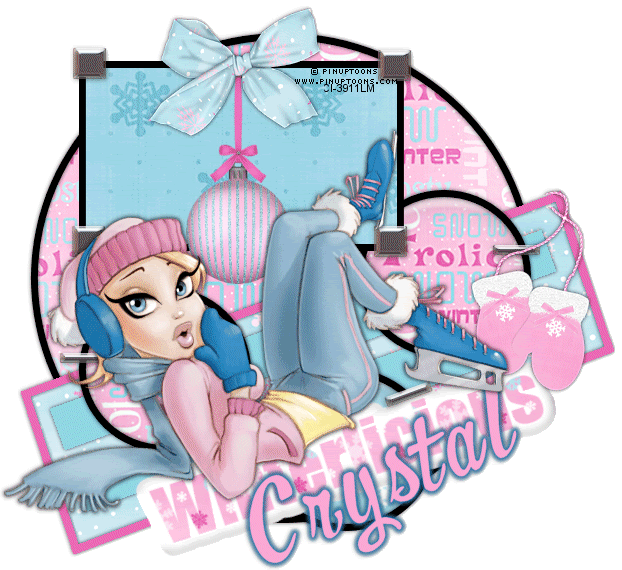 Image of choice
I've used Pinups
you can purchase from
http://www.cilm.com
Missy has given me permission to supply the animated bauble.
****PLEASE NOTE THAT the animated bauble cannot be used/supplied in another tutorial - or tag only I
have permission****
I've animated and supplied the bauble from Missy's kit
You can get it
here
I've used Missy's kit
Winterlicious
You can download from her blog here
http://www.misfitsscrapz.blogspot.com/
Template91 is by Ali
You can get it here.
http://www.designsbyali.blogspot.com/search/label/TEMPLATES
Open template,duplicate and close the orginal
New layer move to bottom flood fill white,
go to image,canvas size 650x650
we can crop later
Delete the copyright layer
On the circle layer click inside with magic wand
open paper from kit,paste as a new layer
invert and delete
Delete the gray circle layer
Click on raster 2 (the rectangle)
and repeat above steps.
Delete the orginal raster 2 layer.
Click on raster 9 with magic wand and flood fill with a color of choice.
Raster 5 click on both with magic wand,flood fill with color or paper of choice
On the small circle layer,click inside the first circle,
open Missy's button 1,paste as a new layer,move it to the circle you selected.
Invert and delete.
Duplicate it and move it to another circle,
On the last circle,do the same but with button 2.
Now you can delete the orginal small circle layer
Raster 10,the small sqaure layer,click inside it with magic wand,
paper from kit,paste as a new layer,invert and delete.
Take your mittens,resize I resized by 60% and then sharpened once.
Place to your liking or where I have mine.
Now open a bow of choice resize 60%,place to your liking.
Add your tube now,
Add the Winterlicious word art,
your name font I've used is Al Delight.
and copyright!
Close off the tube,bow layer
Copy merge and paste into animation shop.
Duplicate till you have 22 frames,
Add the bauble I've supplied and place it where your bow was.
Change the frames speed to 25
Now on frame 1 and 22 change speed to 10
back to psp,close off all layers except for your tube and bow layer
copy merged
paste into animation shop,duplicate till you have 22 frames,
select all,copy and paste into your other animation,
crop,save and your done.