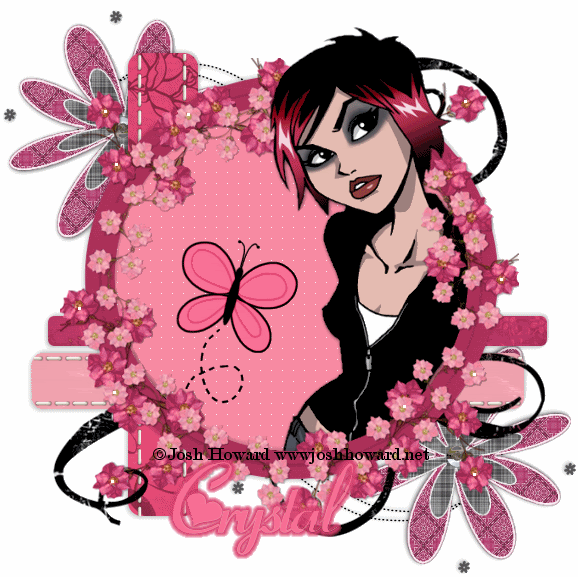 Supplies
Tube if choice I used ©Josh Howard
the circle flower frame is by Sandra http://www.sandrastutorials.com/
The butterflies are by Lori LM (sorry no link)
and the accents are made by Ditzie
here
Open a 600x600
flood fill white
Open the flower frame by Sandra and copy the frame as a new layer
paste on your working area as a new layer
copy the flowers as a new layer
colorize or leave it be
then take your accents I used the pink flower
and paste it as a new layer and move it below your flower frame.
drop shadow of choice I used.1 1 60 6 black
duplicate it and mirror then flip
click on your frame magic wand and click inside the frame
selections and modify,expand by 15
new layer flood fill with color of choice or a scrap paper
I used a color and the Penta,color dot on mine.
move it below your frame layer
select none
ok click back on your top layer which should be the flowers
open your tube
and paste as a new layer
resize to your liking
now here comes the hard part LOL
take your free hand tool
and draw around the part you want OUT of the frame.
right click on your tube layer in your layer palette and promote selection to a layer
select none.
now click back on your frame layer and click inside with your magic wand
expand by 10
INVERT
click back on your orginal tube layer and hit delete and move it below your frame layer
and add a drop shadow same as above
now take your butterfly and paste it as a new layer
add your name and your copyright.

copy merge into animation shop
Duplicate 10 times
Edit select all
Open the twinks
and edit select all and copy
back to your tag it control +E and paste as many times as you like.
view and save.