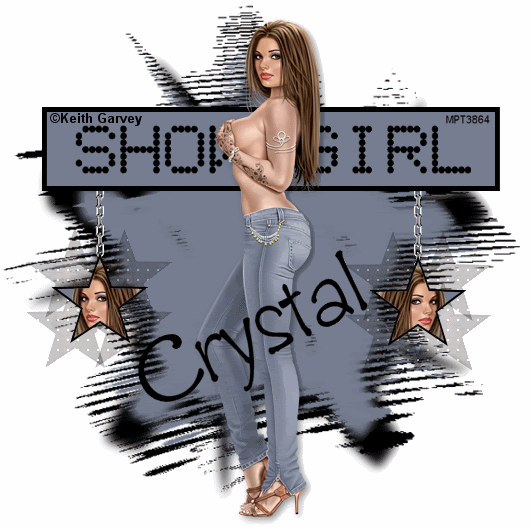 *******************************************************
Show Girl
You will need
toadies,What are you
Image of choice mine is ©Keith Garvey http://garvgraphx.com/
you can purchase his work at
www.mypsptubes.com
You will need image of choice
I've supplied the mask and chain
here
The mask is by Chelle her site is here
http://www.weescotslass.co.uk/
Not sure who made the chain I've got it in a yahoo group.
Open a 650x650 flood fill white.

New layer and flood fill black,apply the mask I supplied or one of your choice
Merge group,
New layer flood fill with another color from your image,apply same mask,merge group,
and resize about 85%
Next take your preset shape rectangle
outer color black and inner color the same as your other mask
and make a rectangle like mine,
Copy and paste your image placing to your liking.Drop shadow
next add your chain place the very top of it under the rectangle
to make the chain appear longer duplicate it and move it down
merge those 2gether,
now back preset shapes,star or one of your choice,
leave the colors the same outside black inside color of 2nd mask,
draw out a star,now take your magic wand in click inside of star then go to invert
and copy and paste your image again placing her face or what ever part you want in there,
now hit delete on your keyboard
select none.Merge the star and the part you place in the star 2gether.
Now duplicate the star,on the orginal apply toadies what are you,settings 20 for both
now to the toadies what are you,apply the weave effect with these settings 2,8,1 white for both
colors and fill gaps checked
Now merge that and the star 2gether,duplicate and mirror
In your rectangle add your saying I used Show Girl font I used was,Nine Pin
Now do it again making it a different color,
Add your name and copyright's
Now close off the first name layer and copy merged
paste in animation shop
back to psp close off name layer and open the other one,
copy merged and paste in animation after current frame,
go to edit select all,go to animation and click on frame properties and put on 55.
view save and your done.