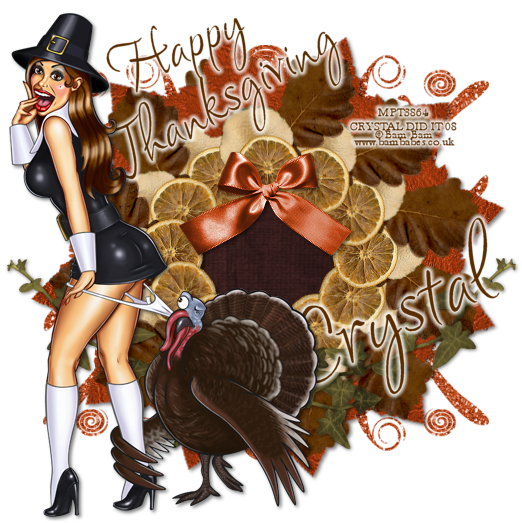 Image of choice Image I used is ©BamBam You can purchase a license and image at
http://www.mypsptubes.com
Scrap kit I've use is Give Thanks You can get it here
.
http://www.dmkdesigns.blogspot.com/search/label/freebie
Also you will need Mura's copies filter
Open a 600x550 flood fill white.
Copy and paste leaf cluster 2 as a new layer reszie 40% and sharpen once.
Apply Mura's filter Encirlce and top option set on 12
Click inside of the fruit,expand by 5 and grab paper 1 from the kit, paste as a new layer,invert and delete.
Move below the frame.
Add your tube,place to your liking.
Open the ivy and resize 50% rotate left 90 Duplicate it and mirror.
Move below your tube.
Open glitterdoodle 1 resize 80% move over to the left,duplicate it, merge those 2 layers only.
Then duplicate it and flip it. Merge them 2gether again.
Move below the frame layer.
Open bow and resize 40% sharpen once. Place to your liking.
Add your name and saying.Font I used is Clarissa Copyrights