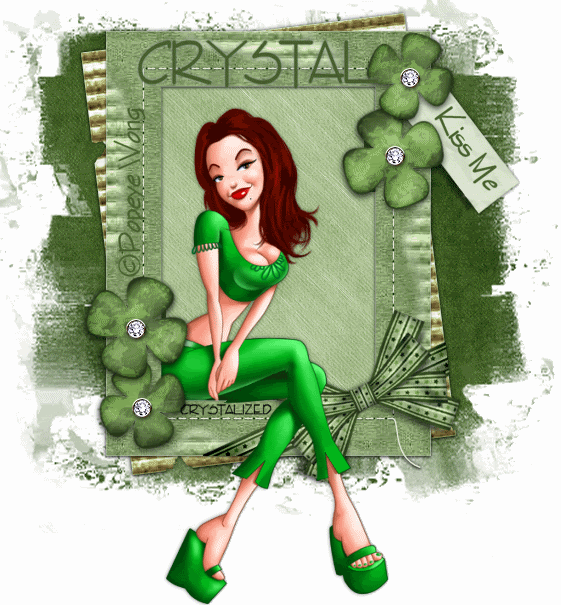 Kiss Me


Supplies needed
Tube Of choice I used ©Popewong www.popeyewong.com
Scrap kit of choice or the one I used.
Go here http://www.sentimentalstyle.blogspot.com/
and look under Archive its called Clover Leaf
Becky_Mask 034 or a mask of choice.
and twinks
here

Ok open a 650X650
We can crop later.
flood fill white.
new layer flood fill with paper 4 from the kit
then apply the mask
invert transparency NOT CHECKED
delete mask layer
click yes when box pops up.
click on Group Raster and right click and Ungroup layers
Copy and paste your frame as a new layer from the kit.
Move it center with your mask
click inside of it with your magic wand
and expand my 10 and INVERT
now you can copy and paste paper 1 2 or 3 its your choice I used paper 1
hit delete and move it under your frame layer
selections select none.
Drop shadow the frame
I used 0 0 60 2 black
open your tube I used ©Popeye Wong
resize if needed. and place your tube as if she were sitting on the frame.
If your using a stand up tube play around and make it look like she's coming out of it.
Its up to you how you do this.

No dupicate your tube moving the duplicate under the frame
click back your orginal tube layer and take your eraser and erase the parts that hang over the frame
Look at mine as example. I erased just her butt so it looks like she behide the clovers.
Now click back on the duplicate tube layer and add drop shawdow of 1 1 60 6 black

now add your text. I used font Enviro
I put Kiss Me on my tag.
Add your name using the same font,
add copyright's and tagged by.

Copy mergered. and paste into animation shop.
duplicate till u have 10 frames edit select all.
open the twinks and edit select all and copy.
back to your tag. Hit Control+E and paste it center of the diamonds. Do this 3 more times so all the
diamonds have a twink
Crop,resize and your done.