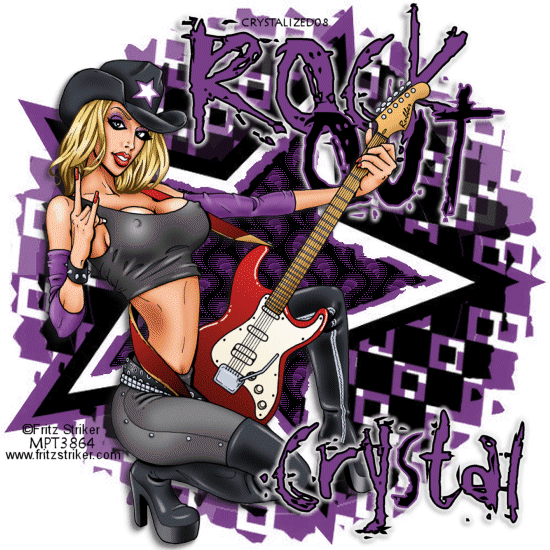 Image of choice I've used
©Fritz Striker
You can purchase image and license at
http://www.mypsptubes.com
Mask of choice or the one Im using.
All I know is the mask is by Caz.
I dont have a link sorry.
If I get the link I will credit you.
Animation is from sharing group.
Get mask and animation
HERE
Font DISGUSTING BEHAVIOR
Open 600x600
flood fill white.
New layer flood fill a color from your image.
Apply mask merge group.
resize 85%
New layer flood fill another color from image
applay mask,merge group
resize 75%
Add your image.
Now add your saying. I choose Rock Out
Add your name with same font.
Now open animation shop
Open the animation
Go to edit and select all
right click and export frame to psp
go back to animation shop and right click
and break frames.
Now in psp,colorize the animation(each layer) to a color from your image.
Take your freehand tool and draw in the inside of th star on the smaller mask layer
Duplicate it 5 times.(Total of 6 layers)
Now starting from the ORGINAL mask layer(that should be layer 1
work your way up and rename then 2 3 4 5 6
Close off layers 2-6 on mask
on the animation close off layers 2-6
Make sure your on layer 1 of the animation and tag.
Flood fill layer 1 with the animation on your tag.
Close off layer 1 and open layer 2
do that for the animation to.
Make sure you click on layer 2 in both tags.
Flood fill layer 2.
Repeat these steps untill you have all 6 mask layer filled.
Make sure on each layer your layer is highligted (just click on it in the layer pallette)
When your done go to selections and select none
Now close off layer 2-6 again
go to edit and copy merge
paste into animation shop as a new layer
back to psp close off layer 1 and open layer 2
copy merge and paste in animation shop after current frame.
Do this with all the layer 3-6
Veiw save and your done.