http://garvgraphx.com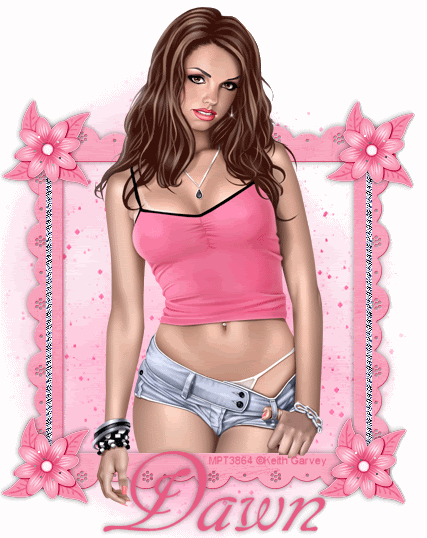 Sparkling Diva
Included in supplies is the mask and sparkle and chain
Supplies here
Mask belongs to Becky her site in closed
sparkle and chains were gotten from yahoo groups,If these are your's
please let me know and I'll credit you or remove from supplies.
Scrap kit of choice or the one I used Girly Girl
is by Yvette you can get that here.
http://misfitsscrapz.blogspot.com/
image of choice mine is ©Keith Garvey you can purchase his work at
www.mypsptubes.com
Open a 600x550
Flood fill white
copy and paste a paper from kit and apply the mask.
Copy and paste frame from kit as a new layer colorize to match
Open image of choice and place to your liking.
Open the flower banner from the kit and take your selection tool
and draw around on of the flowers
and copy,paste as a new layer,selections select none and delete the
flower banner,
colorize the flower to match.
Drop shadow the flower,
and duplicate it 3 times, Move each into the corners.
Open the glitter bar and place on the left side under the flower and duplicate it
and move it into a straight line,duplicate it one more time and move it down some more.
and merge those 3 layers together.
duplicate and mirror
now merge those 2 layers together.
Duplicate it 2 times.
add noise,to each of the glitter bar layers.
drop shadow the frame.
add your name and copy rights.
close off the top 2 glitter bar layers,copy merged
paste in animation shop
back to psp close off that layer and open 2nd layer copy merged
paste in animation shop after current frame
back to psp and do the same for the 3rd layer.
In animation shop go to edit and select all,then copy,and click on the last frame and right click
go to paste after current frame,you should now have 6 frames, do that one more time
giving your 9 frames,
DELETE the 9th frame.
Open the sparkle and go to edit and select all and copy,
back to your image,go to edit and select all,
and paste into frames,and do this 4 times till u have all the sparkles in the flowers.
crop if needed and view then save.