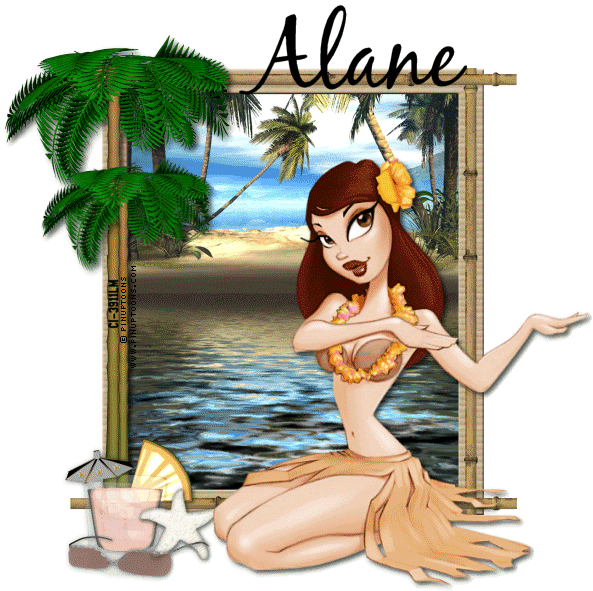 You will need
Image of choice.
I used Pinup Toons
©Rion Vernon
http://www.cilm.com
Scrap of choice or the one I used
Hula On the Beach by Alane
and you can purchase it here
http://www.inspiredtodreamscraps.blogspot.com/
Eye Candy jiggle or water effect of choice.
Font I used BlackAdderII
Open 600x600
flood fill white.
Open frame from the kit
copy and paste as a new layer
resize.
Click inside the frame and expand by 3
Open one of the background papers from the kit.
Resize,paste as a new layer and invert and delete
move below the frame.
Add your image dropshadow and place to your liking
Add elements of choice to the tag.
I used the drink,glasses,and star fish.
I also added palm trees
dropshadow all the elements.
now click back on the paper layer behind the frame.
Take your selection tool rectangle
and draw around the water only.
Duplicate it 3 times.
Now you can delete the orginal.Were not gonna need it.
On the top layer go to Eye Candy Jiggle
Bubble Size to your liking
Warped amount 1
Twist 0
Now do it again for the next 2 layers.
Only change the bubble size.
Add your name and copyrights.
Now close off the top 2 water layers,
copy merge
paste into animation shop as new animation
back to psp,close that one off and open the one above it.
copy merge and paste in animation shop after current frame.
do the same for the last one.
View your tag,save and your done.