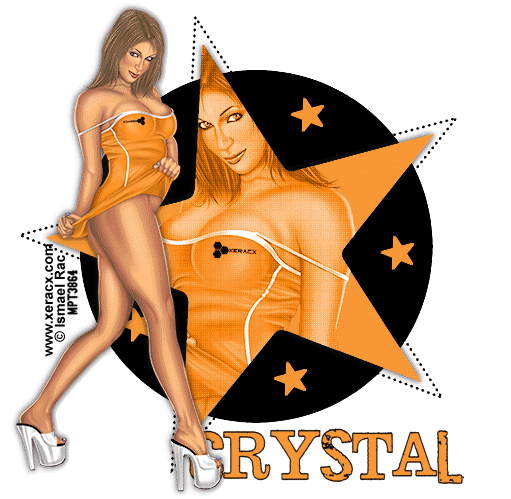 Missy's template 26
Get it
http://www.divineintentionz.blogspot.com/
Image of choice mine is
© Ismeal Rac (mine has a close up.)
To use this image you will need to purchase it
You can get it
http://www.mypsptubes.com
Penta-Dot n cross
Open Missy's template
go to windows and duplicate it
close the orginal one
On the circle layer
go to selections and select all
float-defloat
modify-smooth
settings on 10
both boxes checked.
flood fill color of your choice
Repeat for the star layer and flood fill color of choice.
On the small stars layer go to selections,float-defloat
modify-expand by 1
flood fill with color of choice.
Now click inside the big star and paste image of choice in there.
invert and delete
change to luminance
and add penta- dot n cross
20-10-2
Add your image again place to your liking.
Drop shadow I used
0,0,100,10,black
add the same dropshadow to your star layer.
now on the dotted star outline duplicate it
on the duplicated layer add a small glow with color of choice.
I used Eye Candy 4 with glow of 3
Add your name and copyrights.
Close off the duplicated dotted line layer
copy merge and paste into animation shop as a new layer.
back to psp,close off that layer and open the duplicated layer
paste into animation shop AFTER current frame.
change frame properties on both to 55.
Save and your done