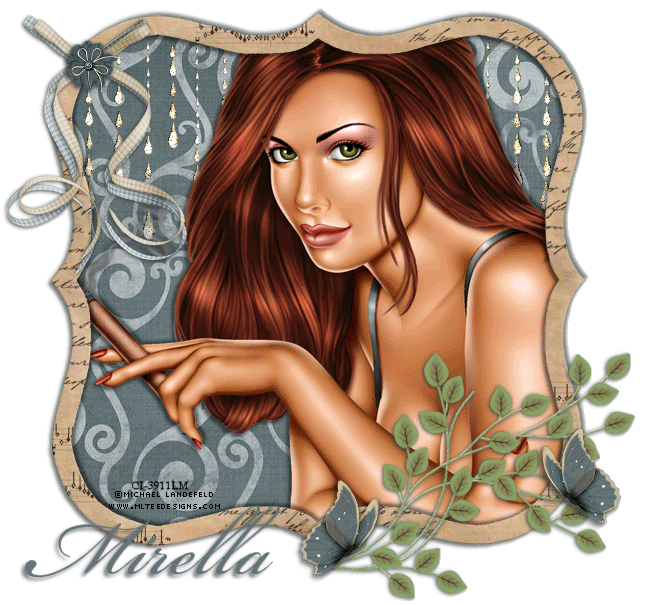 Image of choice.
I've used Michael Landefeld
You can purchase his work at
http://www.cilm.com
Scrap kit is Let It Be
by Mirella
You can purchase this kit here
http://www.aussiescraps.com/
Font of choice.
Open a 600x550
flood fill white.
Open frame 6 from the kit
Paste as a new layer
Click inside of frame with magic wand and
expand by 6
Copy and paste a paper of choice from the kit
and invert and delete
Move below the frame.
Open image of choice,(close up works better)
Copy and paste as a new layer
Click inside frame again,expand by 6 invert
and on the image layer hit delete.
Move image behind the frame
Open tied bow 1 and 2,resize,copy and paste
place at the top left,
Open foliage 3
resize,and place at bottom right
Open butterfly 3 resize place over the foliage,
duplicate and move to your liking on the foliage
Open the raindrops,resize if needed,
place in the top left duplicate and move the right.
Merge ONLY THE RAINDROPS 2GETHER
Duplicate the raindrops 2 times. For a total of 3 times.
Add noise to each layer of the raindrops.
I used Noise in psp
40,35,30 for each layer
Add your name and your copyrights
Dropshadow each layer
Close off the top 2 raindrop layers
Go to edit and copy merge
Paste in animation shop as new animation
back to psp,close off raindrop layer and open the
2nd one,edit copy merged
paste in animation shop AFTER current frame
do the same for the last raindrop layer
Veiw your animation and save.